Who in marketing wouldn't want their content to viral spread like wildfire? The good news is: social media is great for viral marketing. The catch: there's no blueprint for a content hit.
However, some tips can help you create viral content. Here, we'll introduce you to the most important ones.
What is viral content?
"Viral content" existed long before the invention of the Internet. It used to spread by word of mouth. However, the Internet and especially social networks make it much easier to spread the word about something in a short period of time and over great distances.
The key advantage of viral social media posts is: You achieve a lot of reach with them for little money. That's what sets them apart from successful ads. It's also why viral content is so desirable.
Now that you know what viral marketing is, let's learn a bit more about storytelling, which a big part of viral sharing.
Storytelling as a secret weapon for viral sharing
Storytelling is sometimes overused. However, it has distinct advantages for social media marketing in general and viral social media posts in particular. Moreover, these benefits of storytelling are underscored by modern science.
Stories activate a particularly large number of areas in the brain. This leads to a different experience than the recitation of facts. In some cases, the listener or viewer virtually experiences what is being told.
Skillful storytelling arouses emotions and creates closeness.
Messages that are packaged in stories are more likely to be remembered.
Of course, it all depends on how. If you want to create viral content through storytelling, pay attention to the following points:
Use characters or "heroes" that members of your target audience can identify with.
The same goes for the central theme or problem.
Try to evoke emotions that will make people want to share the content. Focus on positive emotions. There are exceptions to this rule: For social and environmental organizations, for example, it can be useful to evoke anger and fear.
Use strong images. As a rule, storytelling via videos is the most effective. This appeals to viewers on several levels. Tweets with video also achieve 10 times more engagement than those without.
6 Tips to create viral social media posts
Even though we can't offer you a blueprint for viral spread content, we have a few tips that will help you get closer to it:
1. Know your audience
If you want the content to go viral among the members of your target audience, you should know them. Above all, you should know what these members are interested in, their problems, and what they want. For example, not everyone laughs at the same joke. Besides, people like to share content that they can identify with and that offers them added value.
There's also another point that studies like to point out: users don't share anything they don't care about. Conversely, they tend to send content to acquaintances that show them in a positive light themselves.
The following, now legendary video from Dove aims to help women develop a more positive relationship with their appearance. In doing so, the company picked up on a topic that plays a central role for its own target group. Dove Real Beauty.
2. Informative or entertaining?
One of the fundamental decisions when creating viral content is whether the content should entertain or inform (may be even both). As in Dove's case, campaigns that convey values also work well.
But be careful: Content only goes viral in the desired way if it is authentic. If it doesn't fit your company or organization, refrain from addressing topics such as racism and equality. In the worst case, you'll get a huge negative reaction (the kind of viral spread you can do without.)
By the way: If you have chosen informative content, it is important that it also arouses emotions so that users share it.
3. Choose the format and platform wisely
There are some formats that work particularly well for viral marketing:
These include:
Memes
Infographics
Videos
Of course, not every format is suitable for every message. Infographics, for example, are a great way to convey informative content. Next, memes are ideal for humorous marketing and for expressing feelings that users can identify with. Finally, Videos are great for conveying emotions and telling stories.
The platform also plays an important role, not only in terms of the target group. People stay on Facebook for different reasons than on LinkedIn or Twitter. If you want to produce viral content on LinkedIn, it makes sense to pick up topics that have something to do with the world of work.
4. Give people a reason to share
Content only goes viral if users want to share it. Therefore, you need to give them good reasons to do so.
Depending on the campaign or content, this can mean:
Arouse emotions that encourage viral sharing, for example, through a funny or motivational video that tells a good story. This meme cleverly picks up on current trends or a really surprising infographic.
Convey content that makes your audience feel better or solves problems.
Motivate users to participate or follow along.
Reward users, for example, with a prize or a free guide. Also, the feeling of contributing to a good cause is a reward itself.
5. Make sure the timing is right
Viral marketing is a matter of timing in several ways:
Sometimes, current events open up great opportunities to create viral content. Then it's often a matter of reacting quickly and skillfully. Like Oreo did when the power went out during the Super Bowl 2013.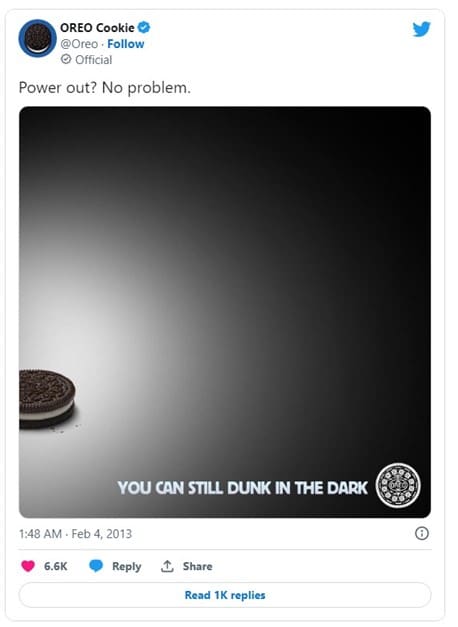 Source: Oreo
Picking up on trends can also contribute to viral content.
Social media is fast-moving. Memes that go viral today are often yesterday's news tomorrow. Unfortunately, this also makes brands that use them seem not quite up to date.
Sometimes, viral social media posts are not planned and prepared but arise as a quick reaction to an unforeseen event. As a result, they are either cutting-edge or timeless but definitely not behind the times.
Tip: We can't say that viral social media posts always have to be short. But if you create a longer video, generally make sure that it grabs the viewers' attention immediately, not after a minute-long intro.
6. Use influencers
The right influencers help give content more reach from the start. This isn't necessarily enough for viral marketing, but it's a boost in the early stages. This increases the chances of a large reach.
The emphasis here is on "right." More important than the number of followers in this context is whether the influencer reaches your target group and fits your brand or content. Micro-influencers are often ahead in this respect.
Viral spread content cannot be planned completely
We mentioned it in the introduction: Similar to a musical hit, a "content hit" can only be planned to a limited extent. A lot depends on whether your content is "in the right place at the right time," the right profiles share it, and it is not overlaid by other content.
But even if you don't get the hit at first, our tips will help you get more people to like, comment, and share your content in the long run. That's better than being a one-hit-wonder.