As content is king so does the video content is the new darling of the shifting world.
The basis concept of the content is to drive the prospects to convert them as customers. Further, they become your customer there must have a good reason to let them come back again to their extended needs related to your product.
A fine-tuned content marketing plan not only help you and your business to carry your customers down the marketing funnel but also help you make your customers a word of mouth for you.
You will always be focusing to create appealing content to attract your customer but it's the best time to move on to creating video content. As, a picture is better than 1000 words, a video is a series of pictures that speaks for your brand. You should workout to create video content for all the stages of the inbound marketing funnel to attract; Attract, Convert, Close and Delight. A valuable series of video content will help a stranger to become a visitor of your website then to become a lead then to customer and at last the promoter of your product.
What kind of videos can actually help you to get your brand and product pass all the stages of the marketing funnel? We will walk you through the process and propose the type of video which can serve the purpose for the respective stage of the marketing funnel.
Video content for the Top of the Funnel: The Attract/Awareness Stage
The first stage of the inbound marketing funnel is all about Awareness about the brand and to Attract the stranger. At this stage of the marketing funnel always go for seductive and information free content base.
As it is about Awareness and Attraction, you should go with the Brand Films, Animated videos, Educational videos, Video Documentaries, Explainer/Tutorial Videos and 360° Experience Videos. The main purpose that must be addressed in the videos must be to create awareness of your Brand and give reason to get strangers attracted to visit your portal. All the videos should be telling a story around your brand and the problems of the prospects. If you only focus your brand and neglected the problems which your brand or business is solving for the prospects, that can be big failure.
Let's have a look how Samsung created an awe-inspiring brand video
An adorable animation video by Puma titled "Fatal Attraction"
Educational Video "SEO for Startups in Under 10 Minutes" by Google Webmasters
A video documentation act as a cross between brand films and educational videos.
Explainer / Tutorial viewos are great not only for establishing expertness and authority in a vertical, but for capturing the all-important "how to"– and "hack"-themed quries in the search results.
360 degree experience videos are to share immersive stories, places and experience – the scenes, event sneak peaks, product features.
Middle of the Funnel Video Content – The Convert Stage
With the combination of above video content you have completed a critical phase to Aware and Attract the strangers. Now is the time to convert those prospects into business leads. Build the relation that you created in previous stage. Middle of the funnel videos are kind of customer eccentric product base videos. In the videos set for the convert stage you have to focus how a product or service can help you solve a specific problem. No matter you are a small and medium business or a big brand, it is time to educate the visitors how you and your product can help solve their problem.
Story telling is a neat and easy to absorb way to let the listeners, readers and watchers convince logically. Let your prospects know how your product can resolve which remain unturned. Who are the people and the company behind the product? Let your visitors know what people say about your product, customer care, after sales, and warranty. This is important for your visitors to know whom they are going to buy from. To some extend this is a key to growth hacking as well.
If you comply, "Say what you do and do what you say" you will build an authentic space in the crowd. Talk to your customer through emails too as this is kind of quick way to reach them occasionally.
To meet the requirements of the Middle of the Funnel, you should go with the Video emails, product videos, Company Culture Videos, Testimonials and Video PSAs (Public Service Announcements). Let's have a look how people created the videos to meet the need.
An awesome example of video email marketing from jewelry retailer Alex and An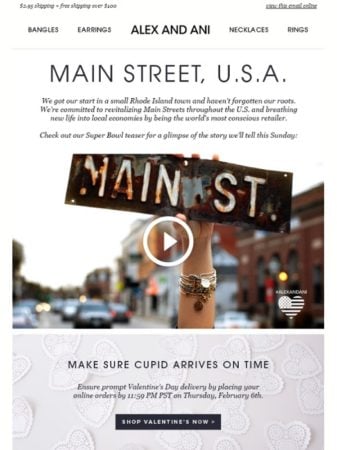 Product review by Volvo is a great example how far a brand can go to convince their audience
A company culture videos are aimed to show the human side of your brand or company. Don't you like your visitors to visit your premises? While building relationship demands to visit your company make a desire with your visitors.
Let them see to strengthen the bounding with your audience.
Testimonial videos can be a versatile tool: In addition to building trust and credibility.
Have a look at this fun testimonial video content by Slack.
Video PSAs (Public Service Announcements) of today provide sharp, shareable content that targets hot-button issues in creative ways.
One such popular PSA is the eye opener.
Bottom of the funnel video Content – The close stage
In the close stage it's about to convert the leads to customers. Here you need to design and produce bottom of the funnel videos. Answer all the questions which can help them choose between the options. It's time to reap the leads as customers, give a slight and gentle push to close them as customer.
At this stage FAQ videos, demonstration or instruction videos or personalized videos will be the best fit for the bottom on the funnel. There are times even on the big brands when they need a push to close the leads to customers.
Let's have a look how McDonald's dealt by providing logical FAQ video.
Instruction/Demonstration videos will help your leads to know what is going to happen once they purchased the product. The demonstration will help them arrange the further requirements. This will give a further push to them and help you convert them as customer.
Let's have a look how IKEA created a demonstration/instruction video  content for the bottom of the funnel.
Today, everyone like to have personalisation in every about.
Look how Coke provided a personalized experience and captured to let others know;
Beyond the funnel Video Content – The delight stage
Closing a customer doesn't mean that the job is done. According to marketing funnel, it is necessary to delight your customer with even two words; "Thank You". A "thank you" is something which make your customer feel proud. The space for the Beyond the funnel video content is still there. Don't plan to create a big deal, a small video of even a minute will be more than enough.
Look how Google paid thanks
We tried to share the maximum thought to create video content for every stage of your marketing funnel. The potential behind video content is beyond the thought of any marketer. It is all about accelerating the journey of leads in your funnel.
Always follow the right time to go with the right video.
Video content must fit into the wider strategy.
Video content should complement all your content and be in line with your brand tone.
As you have seen that video content can be included at every stage of the buyer's journey, it's time to plan your video strategy even at a very small scale but don't miss the opportunity to reach to your prospects in most wanted fashion.
What video content you created in past and how was its ROI?