We decided to divide our Digital Marketing or Online Marketing Resolutions for 2017 in two parts. So here is Part II! And we wanted to divide them because although long-format content works our post would be too much "long-formatted"!
Although these resolutions are partially based on trends and predictions, they are mainly tips (of course we will be the first to apply them)
And as in the previous post, they are resolutions for YOU and us.
Our 10 Online Marketing Resolutions for 2017. Part II
#6 Try New Social Media Strategies
In just a couple of years all social networks have rolled out new features and all those new elements are not just made for users' fun. They have been implemented to improve users experience and collect data (behavior, reactions, preferences) for better targeted social ads, for new implementations or to get rid of promotional spammers.
And they are also opportunities to try new Social Media strategies and even get deeper insights!
Watch this!
Pinterest included a "Tried It" button and a pop up box to know  real users' experiences. Years ago everyone could post pictures but what better method to battle the meaningless and only promotional content than asking users for their opinion?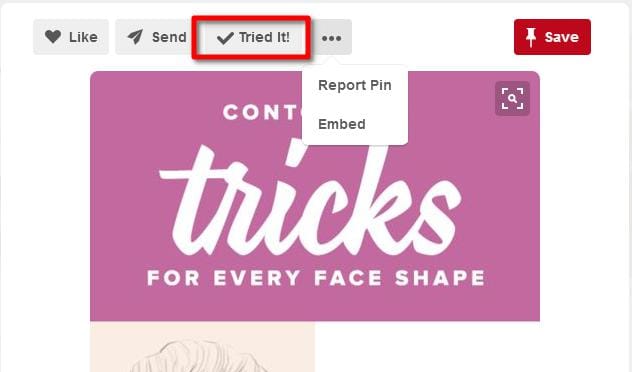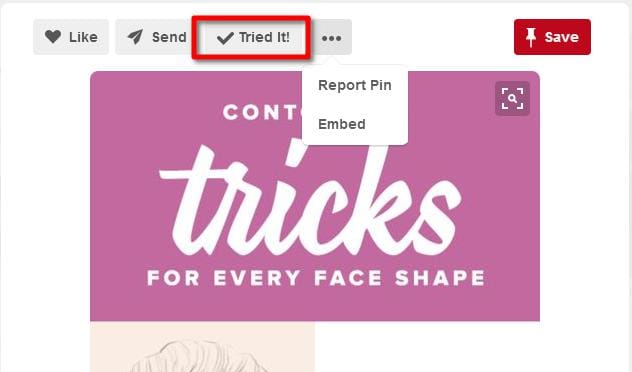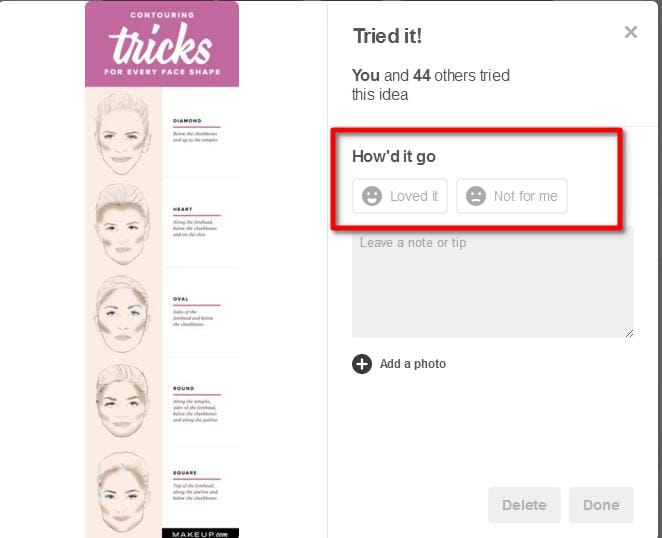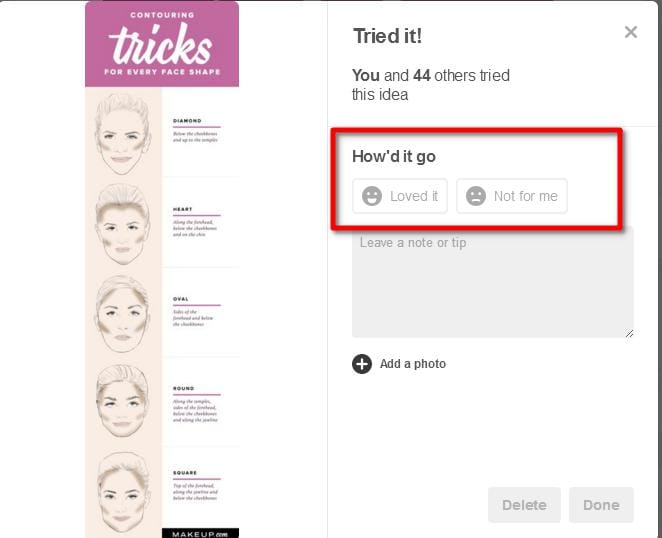 Or watch this! Twitter gifs are there for more than enriching your tweets with fun. They are showing emotional reactions!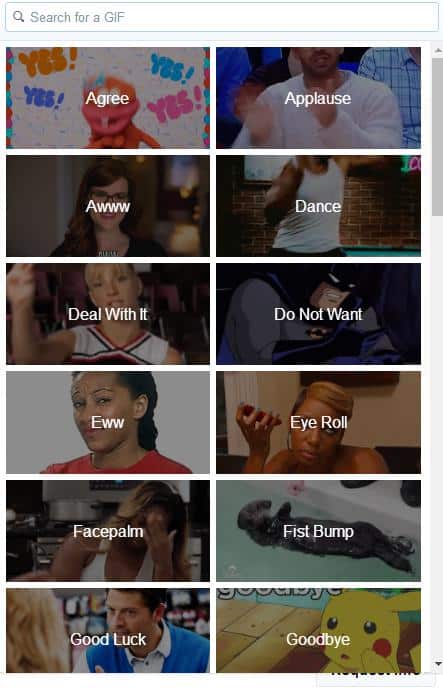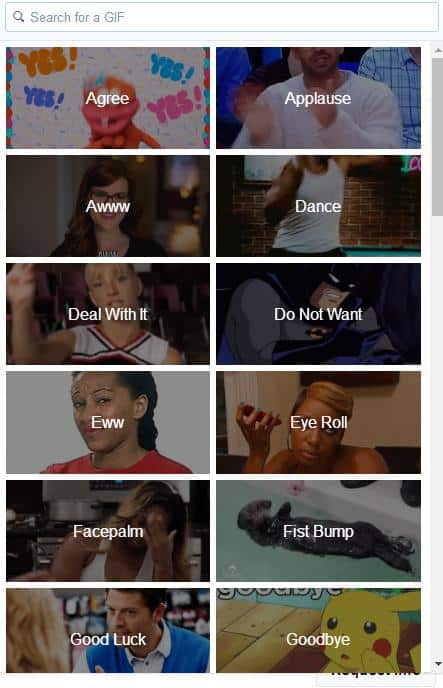 How can you harness these new features to create innovative social media strategies?
I agree with one of the Social Media 2017 predictions from SimplyMeasured:
This will be the year that social platforms reach a new level of sophistication for brands as they continually expand and refine their offerings and provide a greater understanding of user behavior data. While we can't know what will happen exactly, we know that brands set up for success are those that are poised to react quickly and are not afraid of trying new and different things.
We talked about new Facebook Messenger Video Group Chat ideas. Well, there are many ways to harness these new features.
Let's take new Facebook Live Videos. You can broadcast live a webinar, without having to pay an expensive online tool! Or create your own "TV show".
You also can download your Facebook Live Videos, edit them and upload them to YouTube.
Or something as simple as the above featured Twitter gifs. Did you know that many brands, business and blogs are creating branded gifs getting a free promotion when people insert them in their tweets?
(More social media strategies ideas will come soon. We are working on it, so stay tuned!)
#7 Republish Your Social Media Posts
Have you ever heard about Social Media posts life-cycle?
The first time I heard about it was in Pinterest. They boasted about providing long life publications. Don't matter when they were pinned, they are still there. And it is true! If you look for a topic you may find images pinned some years ago.
Hence, awesome publications on Pinterest are like Evergreen posts and you can still receive notifications months or even years after you published.
Instead, the likelihood of your tweets being viewed by your followers is low, as the rate of tweeting is fast paced. You just have enter Twitter, stop looking at the screen for a seconds and boom! When you return to the screen dozens of new tweets from the people you follow appear!
It is said that more than 500 millions of tweets are sent everyday. More than 500 millions!
The pace of Facebook is calmer … but not all your fans are connected when you publish an update or a post. This may be acceptable if you publish once or twice a week, but many websites fill their Facebook pages by publishing up to 2-3 times per day.
So what can you do? Create a republish calendar! You can do it manually or with Buffer (I love this tool).
Here you have real time Internet stats from Internet Live Stats and this is a short video!
#8 Repurpose Your Content
Also, you should think about repurposing your content, changing its format and publishing it with a new fresh face to get the maximum reach.
Creating good content takes time. You worked hard, and if visits are not enough despite your good work… It's a shame that your content pieces go to archives and be forgotten!
Reuse it! Promote it!
Covert your most successful social media post into slideshows with Slidely or slice your most popular blog posts into content pieces and make slidedecks for Slideshare (which increases your credibility and visits.
Buffer discovered that SlideShare's reach for individual presentations can exceed the traffic to the original blog post).
You can also create videos, infographics, eBooks, newsletters with "content snacks"… Options are many!
#9 Go Interactive and Create an Awesome Content Experience
Content isn't just text. More and more webs are including meaningful pictures, videos, gifs, surveys, quizzes, polls, games…
This is not a mere strategy to increase readers' attention. At least not for good marketers/content marketers.
It's a way to provide a memorable user experience… or content experience.
But first and foremost, it is a way to engage readers, involving them and let them know that they are an important part of your brand… and the content you create. That you really care about them and not simply trying to convince or sell. 
We would like to know your opinion about interactive content… (Don't you think that polls can be more seductive when users do not leave a reply?)
#10 Content Outsourcing Is Becoming… A Relief!
I could say that content outsourcing is a solution because you have read that creating content takes time and effort.
This is what you have read and you will read over and over. Just that. And it is true.
But going deeper…
If you want to optimize the return on your investment you must create content, publish it, promote it on social networks, repurpose it and measure the results to determine what works and what does not work, who is more engaged, which formats are more successful, how long readers spend reading, why there is a Bounce Rate. What to remove or improve. Why you don't get leads.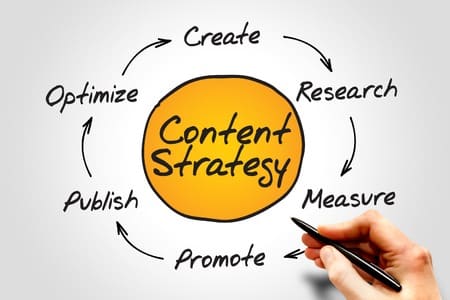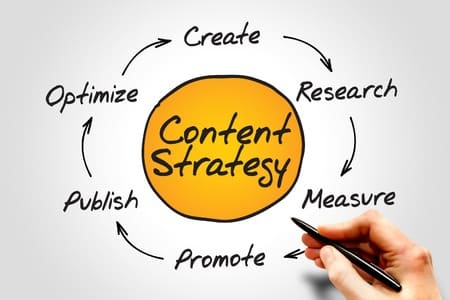 And content isn't limited to blogs, it also includes publications created specifically for social media.
Another Social Media prediction from SimplyMeasured:
"The line separating content and social marketers will continue getting thinner and thinner. As social media marketers begin to optimize for more than engagement, their focus will begin to turn inward on the content that they produce. More and more brands in 2017 will set their sights on hiring and cultivating more hybrid content/social marketers."
Now, more than ever content outsourcing is about joining writing and marketing.
Please, don't get me wrong!
I'm not underestimating all those excellent copywriters, writers, bloggers or journalists. And I'm not suggesting that brands should ignore them, opting in favor of marketers.
In fact I'm an avid reader and I can spend hours enjoying their posts and waiting for new content from many of them.
But let's face reality:
No matter how good content is. The truth is that we are talking about marketing. And content doesn't work the same for everyone. Marketing strategies do not work the same for everyone. They must be different and tailored to brand's goals and customers/users' need and wants.
Content outsourcing goes beyond writing. It involves choosing the right type of content for each brand, company or website, taking into account the industry to which they belong, its target audience, measuring, testing, reporting, research…
So yes; more than a solution content outsourcing has become a relief for brands pain points. Having someone who creates the right content for the right people and analyzes various factors to improve performance or to achieve marketing goals is a relief!
————————————————–
#11 (Bonus) E-Mail Marketing Renaissance
This is the year of well done E-Mail Marketing renaissance. Why well done? Because you know that people hates spam and still many websites get your data and send you Emails repeatedly, thinking that i
I realized that E-Mail is an own channel that provides a 1-1 customized marketing when I met Hubspot certifications. I was fascinated when I learned the techniques and best practices. A well done Email Marketing will ensure and strengthen your customers engagement.
BTW: I recommend you Hubspot certifications. Don't just for learning what you probably already know but to see how they know how to attract customers. Think about it: They have created a bunch of free video courses with an excellent production and a lot of useful information. They also offer many eBooks…
(Click to see full image)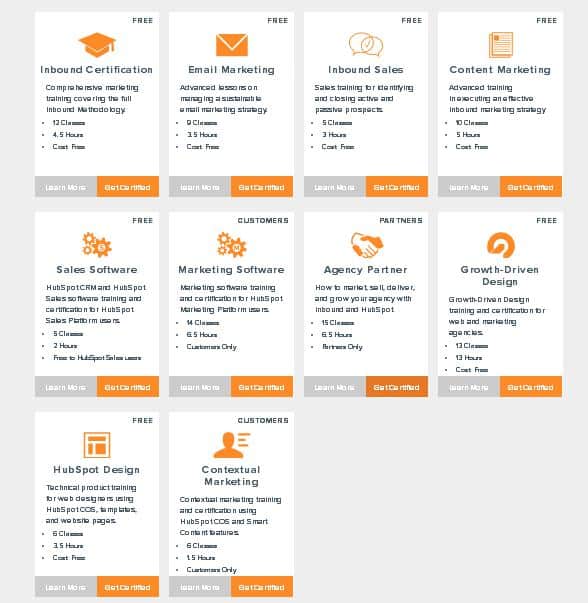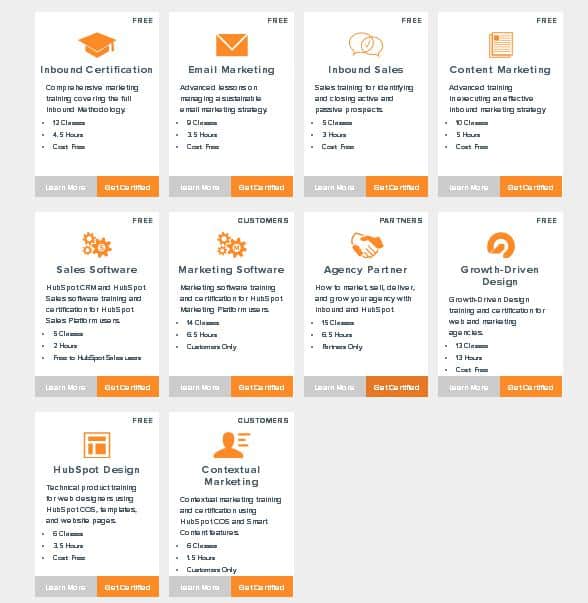 Certainly they do what they preach, a great Inbound Marketing!
Never stop learning! This is the best New Year's Online Marketing Resolution… Or rather, the best New Year's Resolution