Every blogger, personal blogger or business blogger, is working to get more traffic to their website. For the purpose, they used to meet all the possible means of search engine optimization. After having a good research on keywords, they optimize every element of the blog from Title, description, H Tags and Alt image tags. Later, they start to market the content with the best white hat methodology of search engine optimization. Images of the blogs are ignored, most of the times. Pinterest with about 175 Million active users is among the top social media channels. If we emphasize well to market blog images, we can drive traffic using Pinterest.
There are about 75 million active users from the US and 100 million from outside the US. This clearly unveils the opportunity to drive traffic using Pinterest to your website or blog. Taking a glimpse of the social media channel, there are Boards present about anything you want to see, literally anything. From businesses learning, planning, product designing, product manufacturing, product marketing, sales, newborn babies, flowers, floor tiles. Name a thing and you will find it on the Pinterest. It really doesn't matter what you are blogging about but what really matters you should share your thoughts with the 175 million active users of Pinterest.
Find out if your blog worth to pin?
you don't need to pin every blog on the Pinterest. The best way before going to pin your blog post on the Pinterest to find out if the topic is searched on the Pinterest or not. It worth to have an active account on Pinterest. Log in to your account on Pinterest and then Search for the keyword you have written an article on.
The search result from Pinterest related to your keyword will be alike;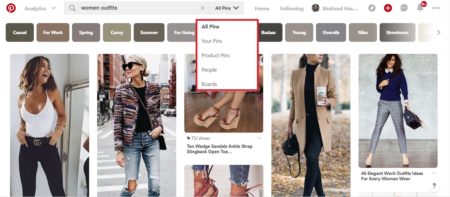 You will see all the Pins related to your search term found by the Pinterest. Check if you can find your keyword in satisfactory number. If you don't see your keyword, make notes of all the related keywords which are found the descriptions. This will help you tweak your keyword in the later stage.
Click on the drop-down option next to search bar and choose people from the menu. By selecting the option you will find all the people who have pins with exact match or related terms as of your keyword. Otherwise, you can further make notes of the key terms they are using instead. Try to keep the URLs of boards of the people to use at a later stage.
Move back to the first page of your search result and then click on the Boards in the drop-down menu options. Here you will find all the board who have an image related to your key term. Similar to People, make notes of all the keyword used instead. Save the URLs of the boards to use at a later stage.
Very after the Search Bar on Pinterest, you will see some words which are actually related to your search term. Take notes of all the keywords which are actually related to your main keyword. These related keywords can help you create content at a later stage.
Having all the above detail, which make take 30-45 mins, you will be well aware of what content and what keywords people are using to market their blog on Pinterest. These 30-45 mins are the first step to drive traffic using Pinterest. With the help of these details, you will be well aware of what actually demanded on the Pinterest. Go for the required tweaks.
Get your blog post ready for Pinterest
All the above notes get you to the keywords which are actually required to get you found on the Pinterest. Prepare the list of all the tweaks required to make your blog post more shareable using Pinterest.
Once you are done with the text, it's time to optimize the image for maximum eyeballs. For the purpose, try to go with the simple yet effective image. This is the next key to drive traffic using Pinterest.
The best option to take to create eye-catching images is the use of Canva. Here you can create images that are trendy and easy to convey the message.
The most important thing to note here, you must upload your image to have a web address to your image. This will help you have a white hat SEO technique to promote your URL as well. Further, it is necessary to drive traffic using Pinterest to your web blog.
Description of your Pin matters to drive traffic using Pinterest
The pin description is very important to drive traffic using Pinterest. There are a few things which are very important to know before going to write a description to your Pin;
75% of searches on Pinterest come from 1-3 word queries.
97% don't include a brand name in the search.
Pinners are usually looking for "how-tos" instead of exact entries
It is important to keep these points as it will help Pinterest to get your images at top of the search on Pinterest. Always keep your keyword as simple as possible to keep it in 1 to 3-word queries. Always use your keyword at the very beginning of the description of your image. If you need to write a more detailed description, even then keep your keyword at the start and in the middle of the description. Don't use the brand name as people least know about your brand at the start. Again, if you are focusing on How-tos articles it will be better to start with How To and then your main keyword from 1 – 3-word length.
But it doesn't matter if your keyword goes out of this limit. Pinterest will appear your image in the search result near the top. But if your keyword is not at the start or in a longer length, it will not appear at the description in the start.
Hashtags are equally important to drive traffic using Pinterest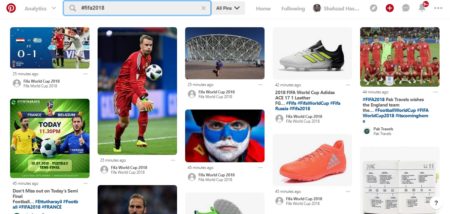 Since September 2017, Pinterest is endorsing hashtags. There are many occasions or people who are using hashtags as search terms like Fifa2018. It equally important to use Hashtags in your description as Pinterest pull the Hashtags out from the description to appear.
Add Pinterest to your blog
The better solution to let your blog visitors pin your images for you is to add Pinterest to your blog. As most of the users are using WordPress, it is easy to add the plugin to your blog.
WordPress.com
The WordPress Pin It button doesn't require any extra code on your site. You can add the Pin It button to all of your WordPress posts by enabling it in default sharing options.
Go to your WordPress dashboard
Go to Settings then Sharing
In the Sharing Buttons section, drag the Pinterest service from Available Services to Enabled Services
If you want to display the default Pin It button image, change the Button style dropdown to Official buttons
Click Save Changes at the bottom of the page
WordPress.org
Download a plugin for the hovering Pin It button from the WordPress.org plugin directory.
Once you have published your blog, you must be the first person to pin your blog post. Next is your team or mates who are really keen to know what next topic you have written about. You should request them to make a Pin of your blog post.
Further, you should track the traffic to your blog post from the Google Analytics or directly from the Pinterest.
Make friends on Pinterest for extra exposure
It is always beneficial to make friends on social media channels. No matter it is your personal blog or you are working for a business blog. Make friends similar to other social media channels. This activity will help you increase your visibility and let you be found by the followers of your new friends too.
In the beginning, we saved the URLs of the popular people and board who are share stuff like us. Now it is time to make them friends to let your stuff be visible to their audience too.
We tried to help you drive traffic using Pinterest. How have you been using Pinterest driving traffic to using Pinterest to your blog?