Social media videos
Video content has replaced the text content and now everyone is looking to shift their marketing budgets in creating social media videos. Though the businesses will also focus to create video content for their websites too more of the budget will be consumed for social media videos.
Video content is performing so well due to continuous up gradation in mobile devices and high-speed internet availability. Today, more than 58% of searches are generated from mobile devices which allow video content to get more famous day by day. I heard an interview with Neil Patel in which he ensured that he is and will remain to invest more in video content.
If you got to know that video generates 1200% more shares than that of text and image updates combined, what will be your second thought? This study proofs that social media videos are outperforming all other forms of content.
Even LinkedIn has turned highly visual because of the addition of social media videos.
Social media goals and video content:
Every marketing plan is designed on some goals. Similarly, if you are planning to add social media videos in your marketing plan then you should be clear how it can contribute;
Boosting brand awareness and reaching a wider audience
Boosting your social media engagement
Generating more conversions and sales from social media
Generating more traffic from social media
Whenever you are planning or creating video content you should be working around these to fulfil these goals.
Social media video ideas
It is very critical when you are going to plan video content for your social media channels. As we said above, keep the marketing goals in front of you while designing or creating video content. Let's discuss a few ideas of social media videos which can help you meet your social media marketing goals.
Product Videos
IF you are planning product videos to generate more traffic and increase conversion goal then you should go with the How-to video content or product explainer. These type of video content will simply explain the product and highlight its features. A great example of this is Slack's"So Yeah, We Tried Slack…" video that not only explains what Slack is and how it works, but it also serves as a great and highly engaging ad for their product; plus, it's quite funny too.
Brand Videos
Let your targeted audience be aware of your brand. Highlight your team, values of your brand and the targets being set by your brand in the brand videos.
Value additions through social media videos
The next idea for social media video is how your brand is adding more value in the day to day life of your targeted audience? For the purpose, you can go with how-to videos as well as useful tips for your targeted audience.
Case studies through social media videos:
There are many case studies around your brand as well as your products which have changed the life of your targeted videos. You should share case studies through social media videos to boost social media engagement goal of your marketing plan.
Tips to create engaging social media videos
Creating social media videos is one thing and creating engaging social media videos is the other thing. Let's have a look at the tips to create engaging social media videos.
Storytelling works well
Always go to tell a story to your audience. This way you not only convey some message but can also present your product or brand in a better way.
For example, take a look at this video from Nike's Instagram account:
Always use subtitles
There are people who are watching from different ethnics or in mute mode. To better facilitate them always use subtitle options for your social media videos. You can use music, voice over or subtitle where needed. Quick by Go Pro is a nice tool which will do the job for you.
Download the tool on your mobile. Tell the tool which video and images you want to create a video of and rest of the job will be done by the tool.
Optimize your videos for different video channels
When you are creating a social media video you must optimize it for different social media channels. This will help you share your video on all the channels where you want to interact with your audience. You can use Wave. Video to let the job done for you.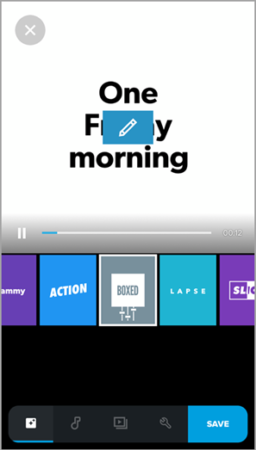 Show your customers instead of telling them
Instead of explaining through speaking, use graphs, charts or anything physical which can appeal to your audience. Go Pro is one of the great examples.
Get your viewers interested from the first few seconds
First few seconds of every video is important. If you want to let your viewers be interested to watch the video and convert then you must tell them what they are going to see and get from the first few seconds. The longer the video the difficult it will be to convert your viewers.
Get straight to the point
It will be very bad to me if I couldn't get to the point straight in any kind of content. Especially, if you are creating a social media video then you must get straight to the point. This will help the viewer to make their mind to get to know what they are going to get through the video.
Oreo is one of the brands that have mastered the art of short videos;
Conclusion
Tips and ideas to create engaging social media videos have been shared to let you carefully follow the instructions. Again, you need to keep the marketing goals in mind while creating social media videos.
Never forget to analyze what you have shared to keep learning and find new ideas for further proceeding. You can also get better ideas from the comments you get from your prospects.