The fintech industry is constantly evolving and is expected to continue impacting everything that involves banking solutions in the coming years. With increased technological advancements, the banking industry has seen significant adoption of fintech innovations, diversifying the accessibility of financial solutions.
For instance, even without fancy smartphones or gadgets, people in remote areas have been accessing banking services through fintech-focused payment solutions for years. Now, digital banking is a million-dollar industry with more growth expected in the coming years.
With the future of fintech looking bright, it's important to familiarize yourself with the newest and hottest technology trends expected to shape the industry in the future. Let's start by understanding the meaning behind the jargon.
What is Fintech?
Fintech is a combination of two words: financial and technology. It is a term used to describe how businesses use the latest innovation and technology to deliver financial services. It is usually related to start-up companies focused on innovative technological solutions in aspects like big data, mobile banking, artificial intelligence, machine learning, etc.
Over the years, fintech-focused innovations have revolutionized how we use traditional banking services. And with such a rapidly growing influence across the financial world, it's easy to see why so many people are keeping a close eye on fintech solutions. So, what are the trends that have gained much attraction recently? Will they continue to revolutionize the fintech industry even further? Let's find out.
Hottest Fintech Trends and How They will be Impacting the Fintech Industry in the Future
Key contributors to the massive growth of the fintech industry include the ability to enhance customer experience, improve accessibility, reduce costs, and drive inclusion. That said, here are the hottest fintech trends you should know about today:
1.    Artificial Intelligence (AI) and Machine Learning (ML)

Artificial Intelligence and Machine Learning are among the recent technologies poised to significantly disrupt the financial technology industry in the future by transforming different aspects of banking services. They have enabled businesses to automate various processes in their offerings, including customer service (think of chatbots).
In the next couple of years, these innovations will only become more advanced in analyzing customer behaviors to identify patterns and preferences, enabling businesses to conduct tailored marketing campaigns and offer customer-centric products and services to their consumers.
Furthermore, AI and ML will prove more helpful in preventing fraud, improving compliance, and reducing risks in the digital space.
2.    Robo Advisors
Robo advisors are automated digital platforms that provide algorithm-based investment solutions, such as advice and portfolio management. They are expected to grow in popularity in the next few years because they charge lower fees as opposed to conventional financial advisors.
Besides, AI and ML are only becoming better by the day, which means the data and advice robo advisers will be providing in the future will be more accurate.
3.    Biometrics Authentications
Experts estimate that the global biometric industry will be expanding at a CAGR of 20.4% in the coming years. Assuming that the high costs of installing biometric systems will reduce in the next few years, more businesses will adopt this innovation. There exists a gap for financial institutions to offer more secure and convenient ways of accessing banking services.
Besides, the demand for biometric authentication in consumer electronics and automotive continues to rise, which means misunderstanding and ignorance about them will cease to exist, leading to more market growth.
4.    Embedded Finance Systems Will Continue to Grow
In its purest form, embedded finance involves the integration of financial services and products into non-financial applications.
This integration allows non-financial platforms to seamlessly incorporate financial functionalities into their core offerings. In doing this, their customers don't have to use specialized fintech applications or visit traditional financial institutions to access banking services. It is among the most recent fintech trends that have played a significant role in how people buy and spend today and is expected to gain more traction in the future.
Embedded finance systems are simple and rapid ways for individuals to obtain financing for their purchases. And in many cases, these models can offer highly appealing opportunities, with low or zero percent interest rates and almost unrivaled ease of use.
For example, a growing number of retailers are offering automatic Klarna and AfterPay support, which can help customers purchase their newest goods on a lending basis rather than having to wait around with the faff of traditional lending solutions.
Whether or not the implementation of the "buy now, pay later" scheme is a good thing often comes down to individual perceptions. Nevertheless, it's safe to say that it's becoming easier than ever to get a small loan for purchases that we might never have considered loans for previously.
In the coming years, subsets of embedded finance, such as embedded payments, embedded credit, embedded banking, embedded investment, and embedded insurance, will significantly help app-based businesses, as well as SMEs and MSMEs, scale product offerings and customer lifetime. So, we should expect more enterprises leveraging embedded finance to deliver customer-centric services and personalized products in the coming years.
5.    Blockchain Technology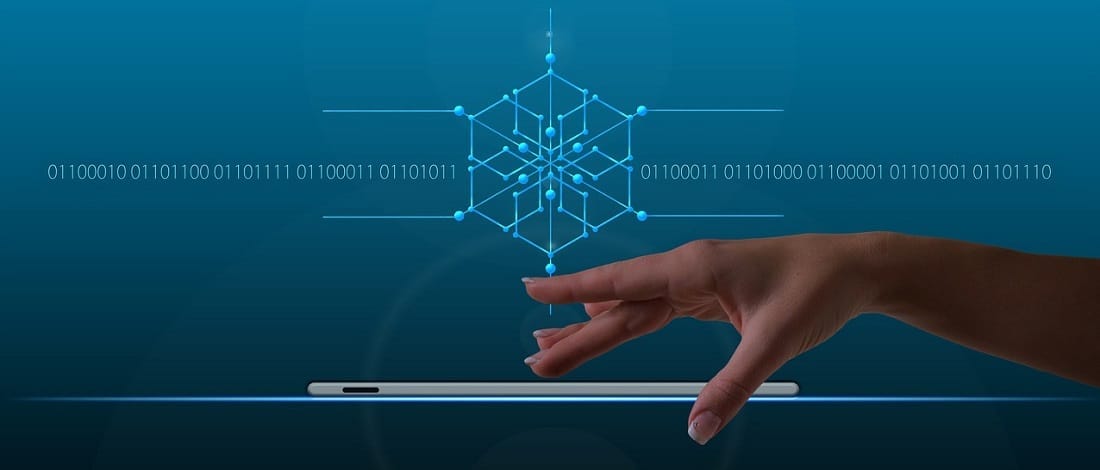 With the global Blockchain market expected to experience massive growth in the coming years, we should be expecting an increased demand for major cryptocurrencies. Indeed, as far as FinTech trends go, this is potentially one of the most revolutionary innovations because even traditional businesses and shops have begun branching out and accepting cryptocurrency payments (or otherwise utilizing blockchain technologies).
With the ability to reduce fraud, facilitate decentralized transactions at a lower cost, and increase efficiency, traditional businesses such as BNP Paribas have recently begun looking at blockchain technologies, which may offer new opportunities for crypto traders.
6.    SaaS
Software as a service, or simply SaaS, is a cloud computing model that allows fintech businesses to access software applications over the internet without having to install them on their computers or servers. It is among the hottest trends expected to continue revolutionizing how fintech businesses operate in terms of data storage and management.
The reason this innovation will rise in popularity is because it allows fintech startups to access data from anywhere.
Besides, the pay-as-you-go model reduces the costs of running fintech startups and allows them to focus on financial services as their service provider is tasked with managing the underlying infrastructure.
7.    Open Banking
Open banking offers customers more control over their funds as well as flexibility. Through APIs (Application Programming Interfaces), they can securely share their financial information with fintech brands looking to create new financial products and improve their services and applications.
It is an innovation with a regulatory framework in Europe, which means its implementation will continue to grow in popularity in various jurisdictions around the world.
This will create a healthy competitive environment in the industry, leading to more innovations, customer-focused products and services, seamless integration between different financial platforms, data-driven insights, regulatory compliance, etc.
8.    IoT

IoT (Internet of Things) is another innovation expected to streamline various processes in the fintech industry, including enabling new capabilities and improving operational efficiency. It allows banking institutions to monitor customer activities in order to offer efficient financial solutions.
Speaking of which, it has the ability to streamline banking services such as online lending solutions. Indeed, with the growing rollout of fintech solutions, fewer and fewer businesses are having to meet potential customers in person.
Instead, the use of live chat and chatbot functions is streamlining traditionally necessary meetings, allowing customers to get a potential quote for their loan or mortgage applications in a matter of minutes.
Of course, this often still needs to be verified. Nevertheless, it's certainly speeding up the process of applying for a loan or mortgage, making these potentially more accessible to customers overall.
Thanks to robotic advisory support, this streamlined process is definitely playing a significant role, and as time passes, this trend will likely continue to grow in popularity. As such, it would be interesting to see how the world of lending changes in the coming years. It may even reach a point where we won't have to meet in person with lenders at all before obtaining lending solutions.
9.    The Rise of Neobanking
A final key trend we expect to see more of in the next couple of years is the rise of neobanks, otherwise known as digital banks. The neobank sector is already a billion-dollar industry projected to hit even higher marks in the coming decade or so.
As technology advances, so will digital banks because the coming generations will likely resonate more with this innovation.
Case in point, digital banking has made forex trading more efficient and cost-effective for small and medium enterprises (SMEs), offering new growth opportunities like expanding into international markets.
Of course, the question remains: how will traditional banks evolve to meet these new demands? Could this spell a complete revolution in how we save our money overall? Only time will tell. Nevertheless, we'll be watching with great interest to see what happens all the same.
Final Thoughts on New Fintech Trends
The fintech landscape is massive, and changes within this sector will undoubtedly continue to influence countless other industries and individuals. Overall, fintech is a rapidly evolving industry, and the technology trends mentioned above are only going to drive innovation for years to come. It's only a matter of time before we see more efficient, faster, and more accessible financial services.