To everyone's surprise, TikTok became extremely popular among users all over the world. The application that was previously considered as the platform for teenagers attracts more and more large brands today. The audience of this app becomes more mature, so businesses see the marketing potential in TikTok. And what about TikTok-like app?
But what factors helped TikTok achieve popularity, and what features engage user attention? In this post, we'll discuss the TikTok app development process, the concept of the platform, and what features should be included in a TikTok-like app.
The concept of TikTok
TikTok allows users to create and share their video content. After the upload of the video, users can edit it with the help of an in-app editor that includes filters, effects, and so on. So, TikTok is a video sharing platform with editing functionalities. Besides, it's a great platform for showing talents and attracting attention to yourself.
How do TikTok algorithms work?
Recently TikTok revealed a part of information about the creation of Suggestions for users. Let's find out how it works.
The system stores all user interactions with any content and other accounts. Then, the algorithm analyzes this information and provides users with unique suggestions. TikTok creates a recommendation page based on user preferences and even the time that the user spent watching a particular video.
On top of that, users personally help TikTok to match the content. After the registration, every user has to specify the type of content he's interested in. If any categories weren't specified, then the app displays the most popular videos.
What about statistics?
Due to a catchy concept, outstanding algorithms, and intuitive design, TikTok managed to achieve the following results:
Almost 800 million people use TikTok per month.
On average, users spend around 52 minutes on TikTok.
TikTok was downloaded more than 2 billion times on both Google Play and the App Store.
What features should a TikTok-like app include?
During the app development, product owners always take care of the essential features first. MVP (Minimum Viable Product) creation allows you to test the idea with minimal expenses. If users warmly accept your idea, then you can supplement your app with more advanced features. Besides, an MVP version can attract investors in the early stages of your product.
So, what features should product owners include in the MVP version of a TikTok-like app?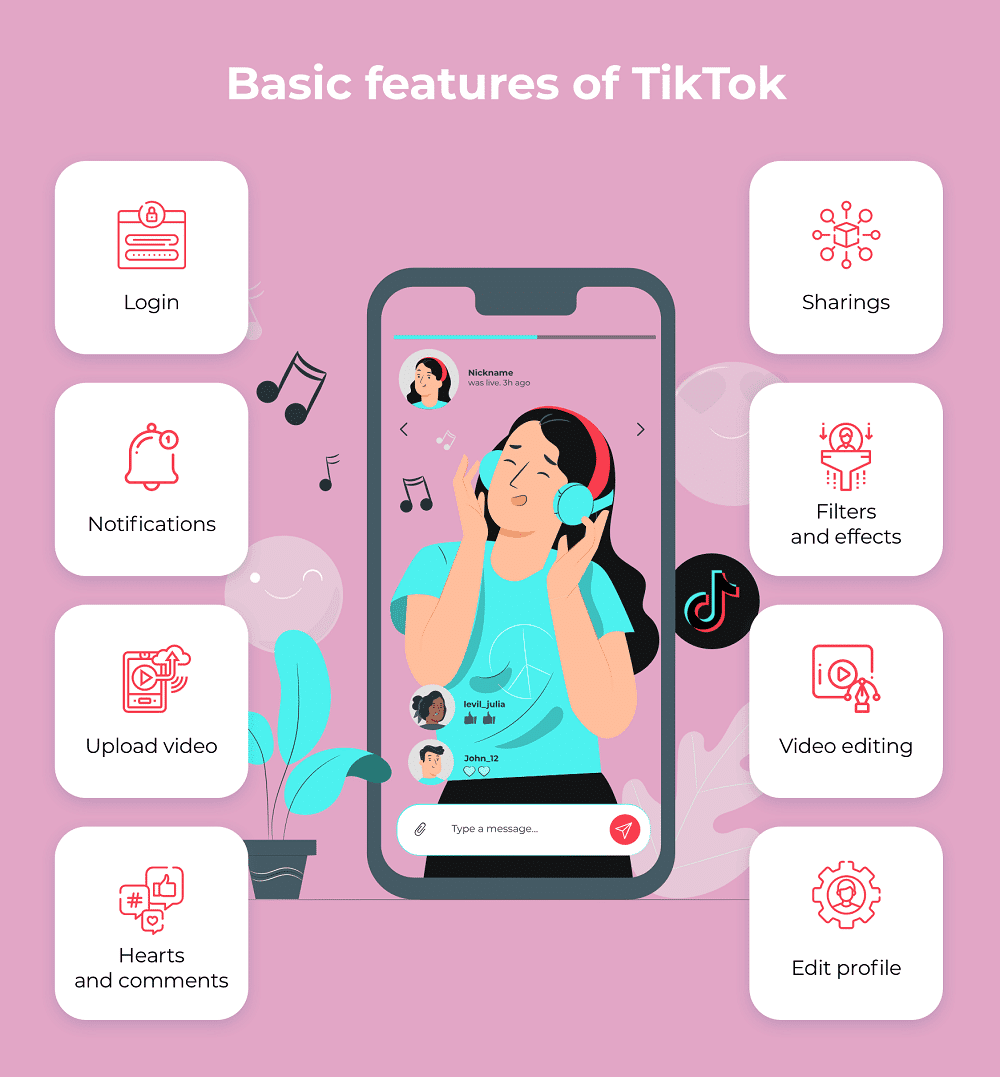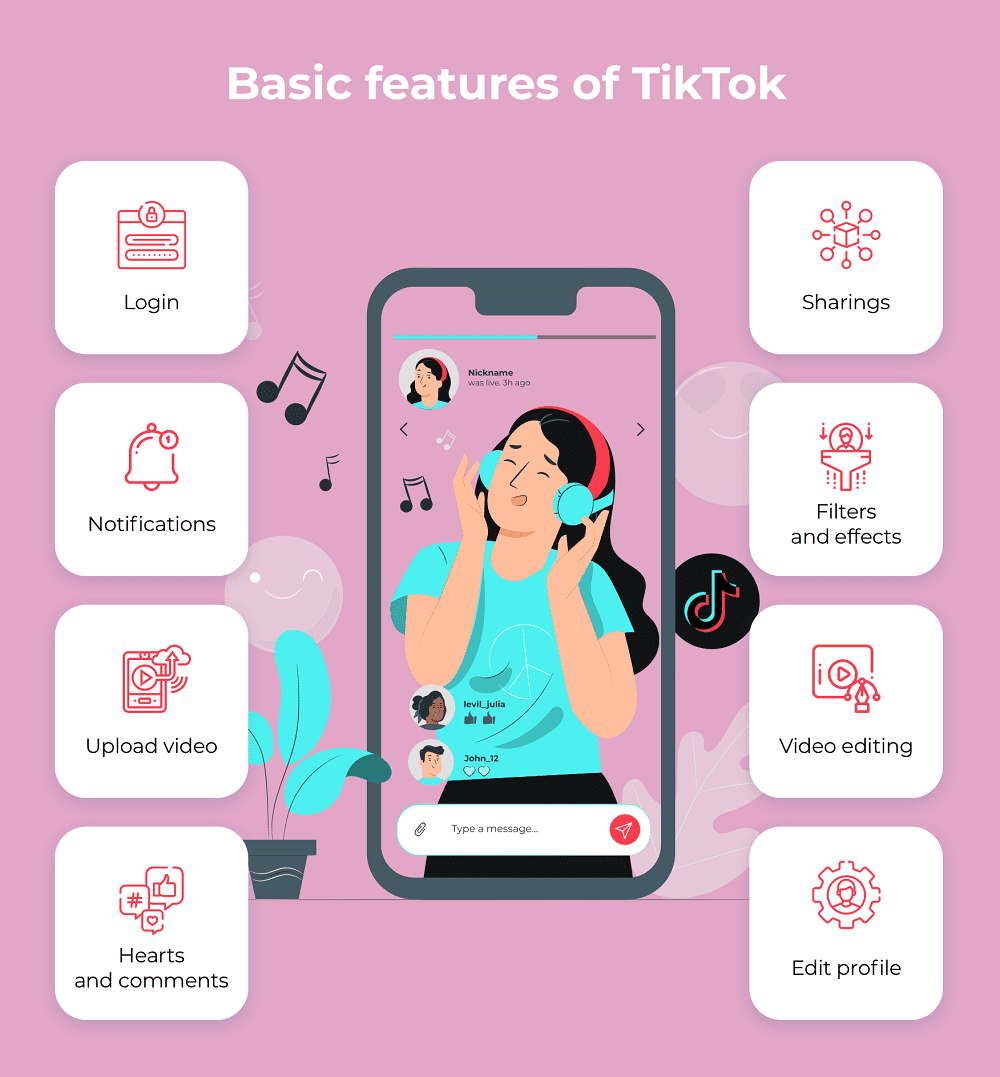 Login and registration screen
To share videos, users need to register in the app. After the registration, it will be easier to suggest content to users and track their activity in the app. By the way, it's better to provide several registration options via email, phone number, and social networks, for example.
Profile management
In the profile management tab, users will be able to change the username or profile photo. They can also describe themselves in bio or even manage the timetable of broadcasts if your app supports live streaming.
Video uploading
This is the most important feature of a TikTok-like app. Make sure that the video uploading process is intuitive and straightforward, as it's the primary function of your app.
Filters and effects
To make videos more attractive and entertaining, TikTok provides users with a large library of various effects and filters. It contains everything starting from simple color-changing filters to immersive AR masks. However, don't rush for the number of effects. Instead, focus on their quality.
Reactions to videos
As in any social network, TikTok users can react to other users' content. Thus, let users comment and like videos. Don't forget to create a "disable comments" feature when users don't want their content to be discussed.
Video editing
If you intend to create a full copy of a TikTok, then your videos shouldn't be longer than 60 seconds. This timing is considered to be the best for mobile consumption. Thus, your users should be able to trim the video. Besides, you can add tools for speeding up or slowing the video down, flipping, and making cinematic transitions. Some tools for color correction would be great too.
Video sharing
The more users you attract, the more revenue your app generates. With the help of sharing, your current users can bring new people to your app. So, make sure that the app allows your audience to share the content via popular social media and messengers like Facebook Messenger, Telegram, Viber, and so on. By the way, TikTok generates links to the content in almost every popular messenger.
Push notifications
When users subscribe to other content makers, they want to know about updates on their channels. Push notifications will inform users about new content on the channels they follow and responds to users' comments. Besides, you can use notifications to keep users posted about changes introduced in updates. In case users don't want to receive notifications, they can turn them off in the settings.
Admin panel
Admin panel allows the app owner to track user activity, manage users (delete accounts, block users, and so on), and gather data about user preferences.
Factors that affect the development cost
It's obvious that the main cost-driving factor in software development is the number of features. The more features you want to develop, the higher the price will be. However, there are more not evident factors that also increase the final cost to build an app.
Platforms
There are two most popular platforms for mobile development — Android and iOS. In a perfect world, the app should be built for both platforms. However, the cost to develop software is calculated for both platforms separately. That means that you'll need to pay both for an Android and iOS app.
If you have strict budget frames, you can release an MVP for one platform to test your idea. Then, if everything will go as planned, you can develop the app for another platform.
Design
The design also requires you to invest money.  If users experience trouble with understanding the app, they will search for better alternatives. That's why it's important to have an intuitive user interface. Depending on the complexity of your app, the design may cost you up to 30% of the whole project price.
Wrapping Up
To sum up, TikTok is a breakthrough in the field of entertaining apps. The simplicity of use, intuitive design, and correctly selected audiences helped TikTok to compete with giants like Instagram or YouTube. If you plan to create a TikTok-like app, mind that this process takes a lot of time and effort. If you want to get a product with outstanding design and well-built architecture, it's better to contact an experienced software development company.
About Author: Vitaly Kuprenko is a writer for Cleveroad. It's a web and mobile app development company with headquarters in Ukraine. He enjoys writing about technology and digital marketing.