The Google E-E-A-T principle is not a new method but has been defining website quality standards since 2018 (well, it started as E-A-T, and developed lately into E-E-A-T).
The acronym E-E-A-T stands for the four evaluation factors: Expertise, Experience, Authority, and Trustworthiness. These four factors are manifested in Google's so-called Search Quality Evaluator Guidelines and play a central role in the evaluation of page content. As usual, the focus is on high-quality content.
But how can companies now implement E-E-A-T for themselves, and what should you pay attention to avoid losing all your rankings with the next Google update? Below we present 7 tips on how to be prepared for this new update.
How to implement E-E-A-T for your company?

1. E-E-A-T: Convince with expertise or personal experience
Ideally, the author of your content has been a well-known expert in a specific field for several years and has a predominantly positive reputation. The website should clearly disclose their qualifications by providing expert references and a description of the author. This expert identification is particularly important for highly sensitive subject areas (YMYL pages, short for Your Money or Your Life).
It is important to know that people can only position themselves as experts in several subject areas if they are semantically related. In any case, the name, a short biography with references, and a photo should be part of the standard repertoire.
In addition, the content should be updated regularly in order to be able to reflect the latest state of knowledge. If you don't have an expert on your team, you should get one on board or have your content reviewed externally.
Expert opinions are not always necessary. When it comes to less sensitive content, such as proper bonsai care, a recognized expert certification is less important than, for example, taking medication correctly. However, you can also rely on your personal experiences and create high-quality content as an everyday expert.
So, your own experiences are valuable for some YMYL topics. For example, someone who is struggling with an illness can certainly tell more about their personal everyday life and their emotional state than a qualified doctor with years of experience.
The following is an example that follows Google's Search Quality Evaluator Guidelines: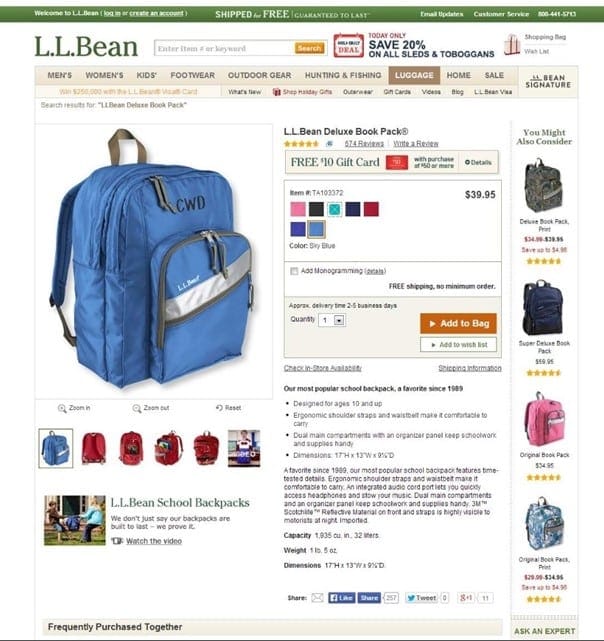 Online shop LL:BEAN: most popular school backpack
The screenshot shows an online shop for backpacks (YMYL page). This page aims to provide information about a specific type of school backpack and enable users to purchase it. According to Google, the site is rated with a very high level of EEAT. A positive reputation and a satisfying and comprehensive set of quality content distinguish the site.
This site offers a lot of helpful product information, has more than 600 user reviews, and has a very good reputation. Since the shop produces backpacks, they are experts on the product and appear authoritative to Google as they are among the most popular school backpacks on the market. The Page Quality Rating is therefore rated very highly by Google.

Search quality evaluator guidelines
2. Build quality backlinks
Backlinks continue to be an important ranking factor for SEO. Quality backlinks from reputable and relevant sites suggest authority to Google. Thus, backlinks act like a recommendation and strengthen your general page rating. In this context, quality comes before quantity. Create "shareable" and high-quality content that shows Google that you're making an effort.
3. Perfect your reputation on social media
A perfect appearance on social networks such as Instagram can be beneficial for your site, especially in terms of authority. A well-maintained profile with many of your own contributions helps to get direct links and make a name for yourself in the industry. In fact, your writers should link their own social media accounts. This makes the site appear more trustworthy for Google. Working with well-known influencers can help here. It is important to ensure that these are thematically related to your brand.
4. Give your users a voice
Besides your expert knowledge or your experiences, the voice of your users is also a sign of trustworthiness for Google. So, give your users the opportunity to share their opinions and experiences.
Rating or comment functions, where users can actively contribute, are particularly useful for this purpose. Do not be afraid of negative comments. As long as they do not predominate and you respond to them in a smart way, they will not damage your reputation and represent good customer dialogue.
5. Be as transparent as possible
In order to present yourself as a trustworthy expert, the transparency of your content is essential. The purpose of your page should always be clear, and all the important information should be clearly marked. Contact information, terms and conditions, and data protection declarations should be quick and easy for everyone to find. If available, additional information such as certificates and awards should be placed prominently on your website – this creates trust in the quality of your site.
6. Focus on your area of expertise
This point builds on Tip number 1: Convince with expertise or personal experience. Expertise is not just about identifying yourself as an expert but also about clearly focusing on your area of expertise. This means that as a company, you shouldn't write about content that you don't have any special knowledge about and that doesn't fit your business. Webmasters who have less authority, but specialize in one area, have a good chance of asserting themselves against strong generalists.
So, our tip for you is to use the Google Search Console to see which search queries visitors use most often to visit your website. If you create content on these specialized topics, chances are it will rank well! Considering the brand related keywords also shows how you can better position yourself as a brand, as they reveal the schematic context in which you are classified by your visitors.
7. Provide the highest security on your side for good E-E-A-T
Another factor that increases the trustworthiness of a site, in particular, is technical security. For example, the HTTPS communication protocol should be standard on all websites today because the outdated HTTP certificate issues a warning and suggests to users that they are on an insecure website.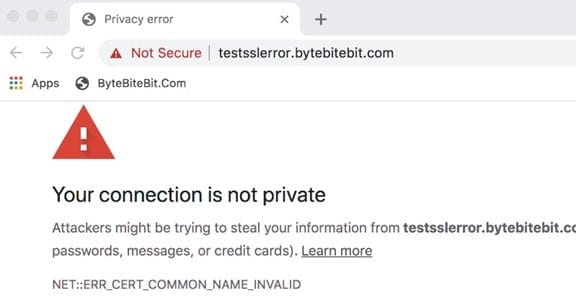 Google chrome "not secure" warning in the browser bar
Long-term success with E-E-A-T
E-E-A-T is not a new concept – Google has always cared about creating quality and trustworthy content for its users. Now the child has a name and has been on everyone's lips since the core update in August 2018. Whether under the explicit name or under another synonym such as Page Quality – every webmaster should take Google's guidelines to heart in order to improve their website in the long term.
Optimizing a site for E-E-A-T is resource-intensive work that does not provide instant results but aims to achieve long-term success. However, the result goes beyond improving your rankings: The user experience is pushed at the same time since users trust your site and may stay longer on your site.
Since 2021, the page experience is considered a ranking factor. Therefore, no matter what kind of website you own, it always makes sense to be prepared for future developments.
E-E-A-T FAQs – The most important questions and answers at a glance
What is E-E-A-T SEO?
E-E-A-T is a concept made up of four factors Expertise, Experience, Authority, and Trustworthiness. It comes from Google's Search Quality Evaluator Guidelines and is used to evaluate the quality of a website.
What is a Google Quality Rater?
Google Quality Raters are human reviewers who manually rate the quality of search results using the Google Quality Rater Guidelines. The examiners' evaluations have no direct influence on the ranking but are included in the fine-tuning of the algorithm.
What are YMYL pages, and why are they important to EEAT?
YMYL stands for "Your Money or Your Life" pages. This includes all types of pages whose content can significantly impact a user's well-being or quality of life. Accordingly, these pages are critically examined by Google and should pay particular attention to the EEAT criteria.
We hope our guide answers all your question about E-E-A-T. If you have more questions or suggestions, we are all ears. Also, our team of Outreach experts is here for you. Contact us and we will be thrilled to help your business rank in search engines.