One very important part of every SEO campaign management is link building. It is not done through one-off actions but is a time-consuming measure with high-quality standards. Instead, to successfully build links, you need a well-thought-out strategy, and that's exactly what you'll find here. Using a few tools for SEO will also make your outreach campaign management much easier.
In this guide, we will go through some of tools for SEO campaign. Also, we will discuss a few things to which you should pay attention when building links during your campaign as well as its importance.
Why is link-building important in SEO campaign management?
Backlinks are important because they help decide which page among thousands or more has the highest relevance to the search query.
With active link building, your outreach campaign management can achieve the following goals:
More traffic from organic search
More traffic through referrals
Increase in brand awareness
Basically, the more external sites link to your content, the more important it becomes. When done right, link building is a white hat SEO tactic and one of the best ways to boost your online presence.
What should you pay attention to when managing an SEO campaign?
SEO campaign management used to be a fairly simple business. In fact, most people did not have anything to manage, since links were included on link farms for money, and as soon as websites had a sufficiently large number of backlinks, this had a positive influence on their SERPs ranking.
Then came Google's Penguin update, which heralded major steps against web spam. As a result, link networks have been scrapped, and rankings based on them have collapsed like a house of cards. More has happened since then; qualitative SEO has become more and more important, and Google is also increasingly focusing on content that most clearly shows the added value for users.
The times when so-called DoFollow links were sold, like at the bazaar, are over. And if we stay with pictorial equivalents, then an outreach campaign management can best be compared to the career of a sushi master:
Observe
Familiarize yourself with the tools
Live out passion constantly
Never stop learning
By the way, Google also wants to keep its position as the most popular search engine. So, it becomes a bit clearer why Californian search technology goes to great lengths to inspire only flawless content.
What are the best tools for SEO campaign management?
For a great campaign management system, it is best to get a few tools for SEO that support you in link analysis and rank monitoring. Some provide a test subscription or at least offer some free features that make your work much easier.
Semrush
The cloud-based tool can be used quickly by you and provides you with a free test phase for seven days. During this time, you can quickly see the many advantages of the uncomplicated software, which offers an SEO tool kit, competitive analysis functions, and support for your content marketing. By the way, you can find Semrush tricks and training sessions on the Semrush YouTube channel.
To build up your backlinks, simply use the link-building kit, enter your domain and that of a competitor, and let Semrush show you with one click how many domains and backlinks go to the respective sites: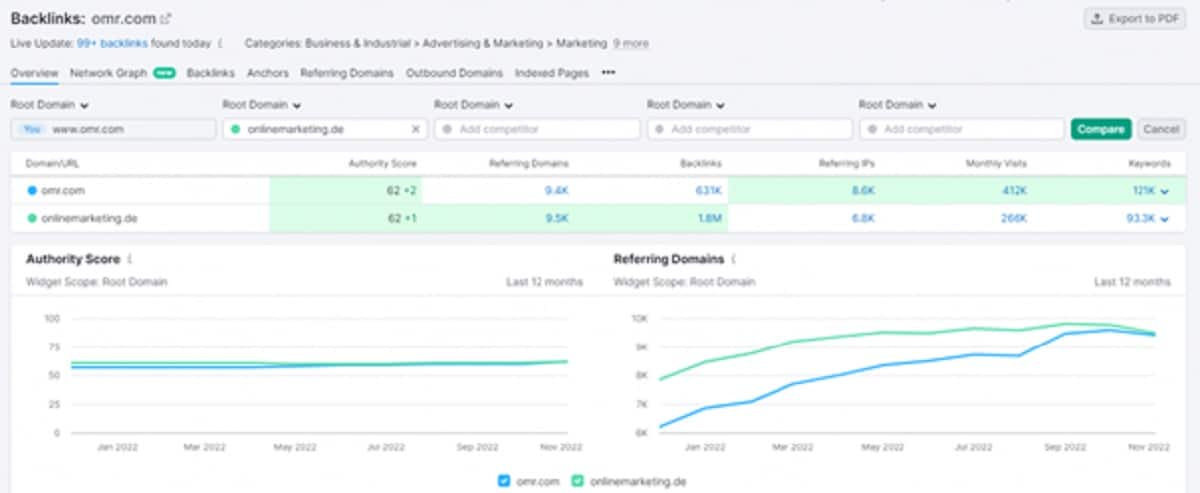 Ahrefs
You can also find support for link building, SERP rank tracking, and competitive analysis at Ahrefs. In our reviews, the software is also referred to as the Swiss army knife for SEO. The best way to find out for yourself whether this applies to your needs is to use the free webmaster tool. You can get even more performance with paid packages starting at $99 a month.
To get to know all the features of Ahrefs, new tutorials are available weekly on YouTube. So, there is more than just a video guide available to you on the subject of link building: https://www.youtube.com/watch?v=fNUxzKZE6K8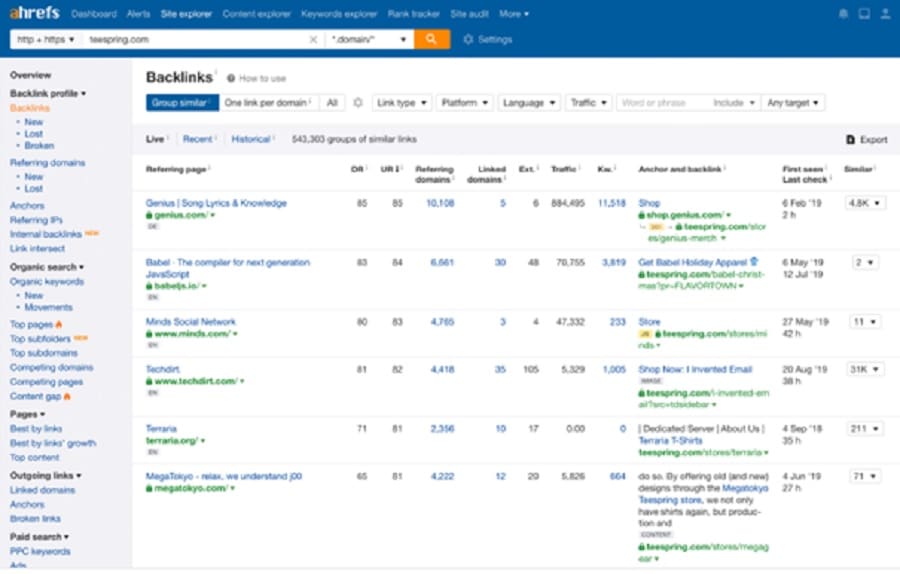 Moz pro
Moz Pro promises you higher rankings, quality traffic, and measurable success. In addition, the software provides a practical keyword explorer and link builder and shows you opportunities to improve the link profile.
In addition to the paid packages, there is also a free feature available to you. The Free SEO Competitive Analysis Tool gives you quick information about domain authority, page authority, and keyword positions of any URL: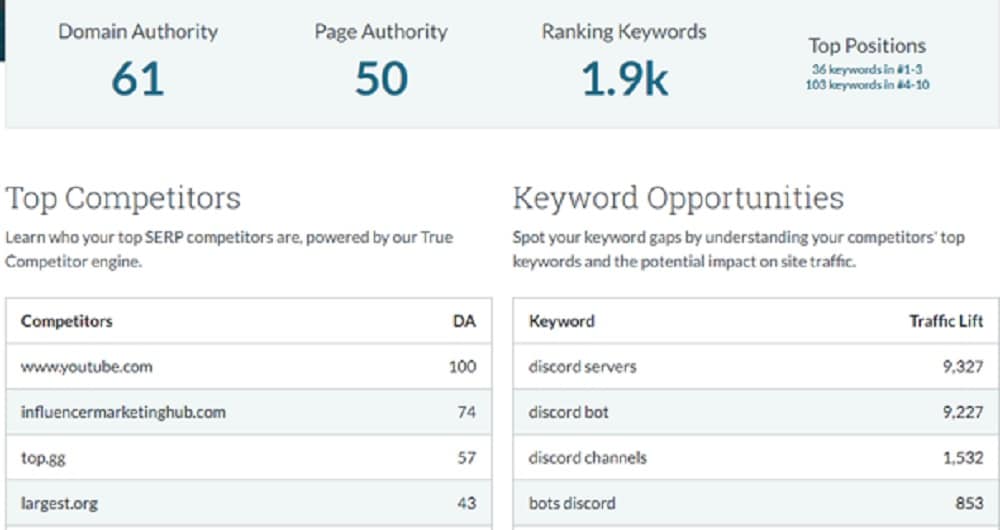 Majestic
With Majestic, you also have an SEO assistant at hand that has great tools for link building. Depending on how often you use it, there are different packages available, the smallest of which costs $46.99 per month. In addition, an extensive media library is available on YouTube to immerse yourself in Majestic trends and techniques.
For beginners, you can try the free link search and display the trust flow and citation flow of a website: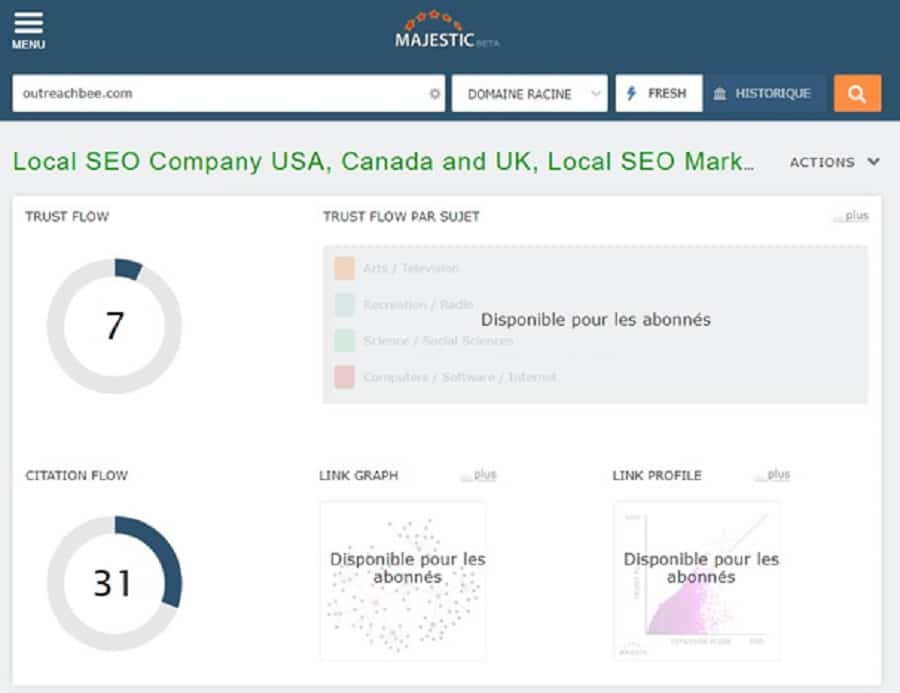 On-page SEO for blogs: How Can I Optimize My Blog?
Before you invest in SEO or use an SEO campaign management service, you need to focus on your on-page optimization.
The on-page optimization of a weblog covers different areas: The content is an important field. Everyone should know by now that high-quality content is an indispensable asset of modern web projects and forms the basis of every marketing campaign: good texts and interesting videos, as well as impressive photos, increase the chance of winning new readers for your blog and retaining them in the long term. Furthermore, positive user ratings and longer users' time sessions on your website have a positive effect on your search engine ranking.
Keywords: Focus on a topic and up to two keywords
For every post you write for your blog, you should first define a clear topic that runs through the entire text. This increases the chance that search engines will classify the article as particularly relevant in relation to the chosen topic. It is also important to find the keywords that match the content, whereby you should concentrate on one or two main terms. In particular, long-tail keywords (a combination of several search terms) are a tried and tested means of not only climbing the search engine rankings but also of reaching users whose search intentions match the topic of your site.
Strategic positioning of keywords
Once you have completed the keyword research, it is important to place the search terms in the right places: In headlines and in the body part, you should note that the implementation of a keyword is never at the expense of readability.
Excessive or disproportionate use of keywords can also be quickly classified as keyword spam and penalized by search engines. However, it is of elementary importance to incorporate the decisive keywords in the following places:
URL: The URL is one of the first pieces of information processed by search engine crawlers. Since each post is published under a unique URL, you also have the option of including one or two keywords here. With a good URL structure that reflects the categorization of your posts, you also increase user comfort. For example, the URL cityryde.com/marketing/advantages-of-long-tail-keywords tells the reader that the article comes from the topic "Marketing."
Title Tag (Headline): The title is displayed as the headline of the search result hit in the search engines. It gives the search services and users a first indication of the topic your article is dealing with. Here the rule applies: the further up the search term to be highlighted, the better for SEO.
Description: The description is a short piece of text that, like the title, appears in search results and provides the search engine and readers with additional information about the content of the blog post. The description should contain at least one keyword.
Conclusion
Part of the SEO campaign should be to analyze your competitors. It determines which websites link to them and what type of content and links could also work for your business. The tools for SEO shown will provide you with good support in this task. In addition, they help to call up the status quo of your own website and show optimization opportunities. However, this does not appear overnight and therefore requires a strategy that must suit both the business and you over a longer period of time.
An effective strategy for gaining quality backlinks and boosting your link profile was and still is an active blog. Feeding it quality content that's worth more than what's already available hundreds of times on the web is a valuable foundation for continually generating quality natural links.
In any case, Google examines at least 200 factors to evaluate the ranking of a page. Of course, we don't know them all, but the quality of your outreach campaign backed by killer content will impress the search engine and also gives your audience what they're looking for.
If you want to focus on your business and let the professionals handle your SEO, Outreach Bee's campaign management service is for you. Our hard-working bees look around the world to get you the best outreach opportunities. Once you approve them, we write high quality content and publish the articles with your backlinks. Please reach us to discuss this further.