Twitter explodes every year with the question, "Is SEO dead? "
Today, however, we will take a break from our regular programming of hand-wringing regarding search engine optimization. We want to declare in the immortal words of Mark Twain: "The death of SEO has been greatly exaggerated."
Companies spent 65.26 million dollars in 2016 on SEO techniques. In 2018, this number increased to 72.26 billion. By 2020, it is expected that search engine optimization will cost companies a whopping $79.27 billion.
But what does this mean for marketing strategies? Why are so many insisting that SEO is dead?
All these accusations that the SEO world is crumbling are not without merit. SEO has changed significantly as search engines evolved. As a result, many of the tried-and-trusted tactics that were once reliable have become less effective.
This is a pattern we will continue to see.
In this guide, we will learn more about SEO saturation, which is one of the reasons people think SEO is dead. In addition, we will discuss SEO for eCommerce sites. Finally, we will share our tips to boost your SEO in 2023.
Is SEO dead? No, it is saturated
SEO isn't dead, but it has become very saturated.
Earth web estimated that there will be over 600 million online blogs, with more than 7.5 million blog posts published daily in 2023.
Content creation was a passion for SEO and writers alike. However, people went one step further. Every now and again, people create new websites around niche topics and write articles that don't help solve their problems.
So, SEO began to lose focus on quality and then moved to quantity.
Most importantly, many people are able to beat the algorithm, ranking their articles, even though they may not be the best. This is why you will see many low-quality articles rank on Google's first page.
Let's not forget High-authority websites that rank for the majority of keywords. Wikipedia, for example, ranks for nearly every keyword out there. For example, it ranks number 4 for the keyword 'SEO', even though it has nothing to do with this industry.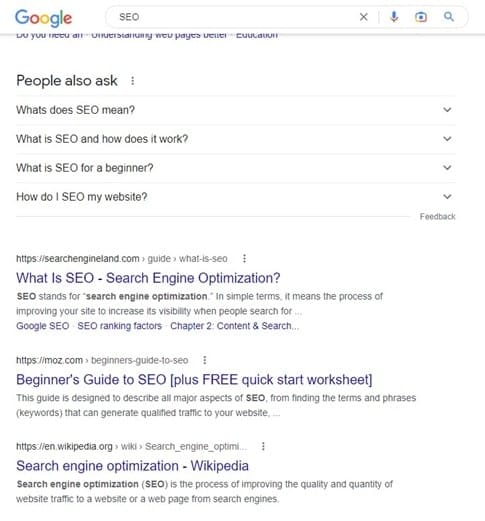 Wikipedia is ranking 4th on the first page for 'SEO' keyword
All these factors increase competition and they make the SEO industry more saturated.
This is not the end of the problem. AI-Powered Tools can also write articles.
Marketers can now publish more articles per day on various topics. While these AI articles are of a lower quality, they are still affecting the SEO saturation rate, a lot.
Google's algorithm cannot distinguish between articles published by Artificial intelligence (AI) and articles written by humans. Articles that have been drafted by AI may rank.
The point is Google will become even more saturated in the future.
The solution is to do what Google told us to do: to write high-quality content to genuinely help people solve problems. This is how we can rank our articles on search engines.
SEO for E-commerce Websites
SEO is used in the worst way possible by e-commerce websites.
Let's suppose you want to purchase a digital watch.
In the hope of finding the perfect watch for you, you hop on Google.
You will find an article in the top search results, promising to tell you which watches are best and what their pros and cons are.
However, eventually, you will find yourself reading a small text by a watch company that describes the key features of each watch and links to its products.
Will this type of articles help you find the perfect watch for yourself? Absolutely not.
However, the majority of eCommerce websites like Flipkart and Amazon rank for the most product keywords.
Others websites write only articles to promote their products or make affiliate income.
Both of these scenarios leave readers unable to decide which product is the best.
You can see that even e-commerce websites publish articles with the sole purpose of selling you a product.
If this continues, people will get annoyed. This will result in a drop in Google search results. in other words, SEO will die if nothing is done about it.
They would instead go to other social networking sites such as Pinterest, Instagram, or YouTube to find answers to their questions.
Social media sites can sometimes be more effective than Google because real people are providing genuine solutions.
Changes in SEO Trends: How to adapt your SEO strategy
You are wrong if you believe that your articles will rank because you have keywords in your meta titles and descriptions and you develop backlinks.
It is important to recognize that the world is changing rapidly and to be flexible.
You must pitch your product to the right people if you want to increase your reach and generate organic traffic.
However, you should first identify who is reading your blog articles and why.
Below are the top 5 most effective SEO techniques and tips for 2023.
5 failure-proof SEO techniques to boost your SEO in 2023
Keep reading if you are wondering how to increase SEO in 2023 and which techniques will still work. We will be looking at both on- and off-site factors to make your website more visible online.
1. Improving your site's technical aspects is a must.
The number one rule to improve SEO results is to ensure your website meets all technical standards.
This includes making sure your site loads fast and optimizing your code. It is also important to ensure that your site uses canonical URLs and that an SSL certificate has been installed.
Search engines also rank sites according to their text-to-code ratio. Therefore, it is essential that your site be responsive and mobile-friendly, as well as have clear and simple navigation.
Sitemaps are essential for search engines and human users. You can optimize images by optimizing them with smaller images and alt text.
Online, there are many SEO audit tools that you can use to check your local SEO. Although they cannot compare to an SEO expert, they can give a good overview of the areas you should focus on in order to improve your on-page SEO.
2. Use the right keywords
Keywords were an important part of local SEO strategies for a long time. But, with search engines ranking sites based on quality and relevance scores, they are even more crucial if your goal is to improve SEO for your site.
Use keywords and phrases that are directly related to your product or service. Also, ensure they are targeted at people at every stage of their buying journey. A mix of content that addresses your core keywords will create a sales funnel and help customers find you.
Be sure to focus on keywords and phrases that are "long-tail," which are the most relevant to your target audience. For example, if you have a New York based wedding cakes business, you should not target "wedding cake" only. Instead, you should focus on keywords and phrases that are relevant to your location (New York).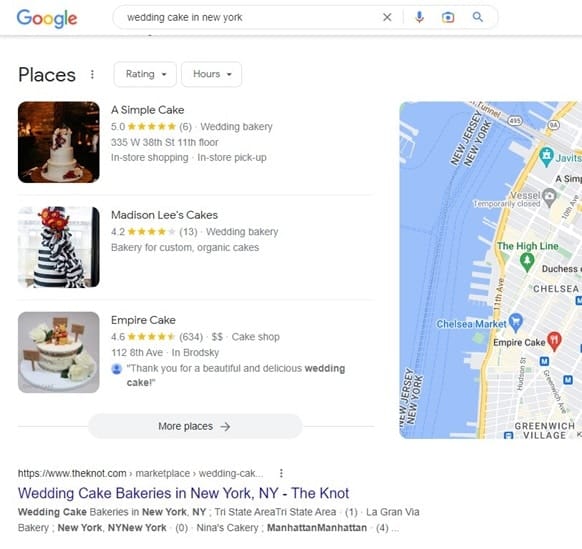 Focus on keywords that are relevant to your location (wedding cakes business example)
While you may get less traffic if you target long-tail keywords only, it is traffic that is much more likely to turn into a sale.
3. Make great content
For many years digital marketers have used the phrase "content is king." It is still very accurate. In fact, people who are amazed by your content will likely contact you for a quote.
You will also rank organically if your content is relevant to your target keywords. That will mean you spend less on advertising.
If you buy all your traffic from search engines, then it will all disappear once you stop your ads campaigns. But if your site is well-respected in your industry, search engines will continue to rank you highly and send free traffic your way.
The best content makes it easier to use other SEO techniques like link-building and social media marketing because there is something to link to.
It is essential that search engine crawlers read the content of your website. This makes it important to ensure that text-based content remains the foundation of your content strategy. You can make your website more interesting with slideshows or videos, but only if you have easy-to-understand information.
Great ways to boost SEO are to write longer content and to create "content silos," which are a series of related posts with the same keywords.
4. Claim your business on Google and Bing
Google and Bing both offer the 'My Company' option that allows you to claim your business.
It is easy to use a Google account or Yahoo account to log in and search for your company. There are two scenarios here:
If you are about to add your business to a search engine, it's not yet visible.
if it's already added (may be by someone else), it will be visible and you can claim it.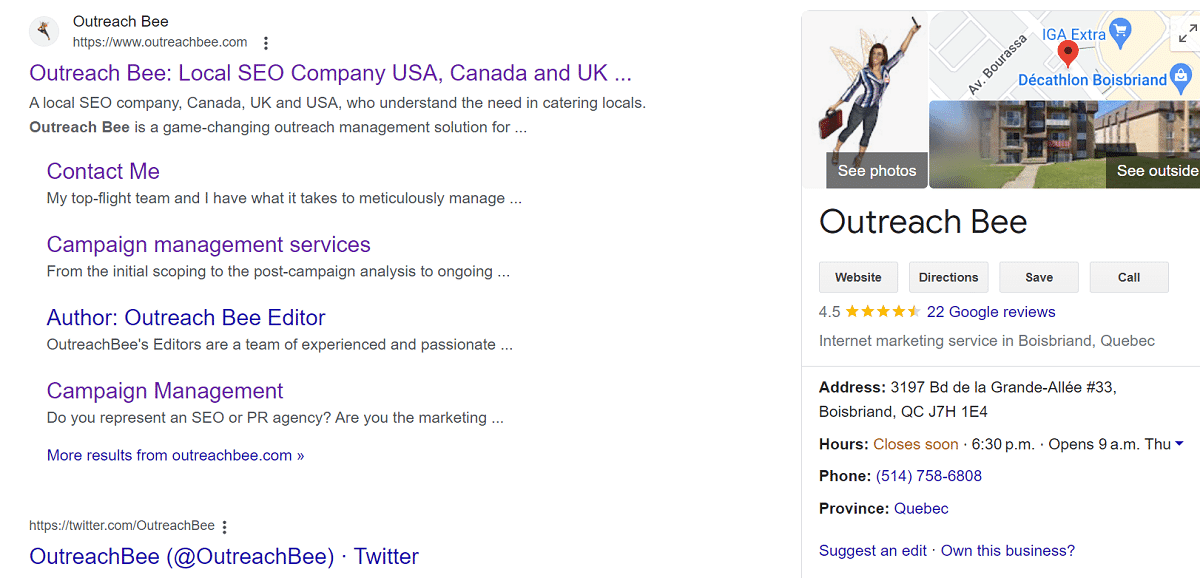 OutreachBee Google My Business
Fill out all forms and pages with your business information. The verification page is usually the final step in the registration process. It typically includes a code being mailed to your address. This allows search engines and other websites to verify each listing.
To verify the code you will receive, simply enter it in the appropriate field.
Your business listing with search engines will make you appear on their maps. It also allows your customers to leave reviews about you online. So, make sure you provide great service and have good reviews to receive more traffic from search engines.
5. Avoid Black Hat SEO
SEO professionals use colors to group SEO strategies:
White hat SEO means search engine optimization that follows all the rules. It won't get your site penalized.
Black hat SEO involves using techniques that search engines don't like, such as keyword stuffing, buying links, traffic, or copying content. While it may work for a short time, it will likely penalize your site in the long term.
The Grey hat is somewhere in the middle. Grey hat SEO is not as bad as traditional black hat, but it doesn't follow all the rules.
Black hat SEO can be described as the SEO's "get rich quick" scheme. It is actually better to do nothing to improve SEO than to use black-hat strategies. So, avoid it at all costs.
SEO is crucial for your business success, don't let it die. If you need help, our team will build high quality links that are tailored to your SEO needs. Contact us right away.